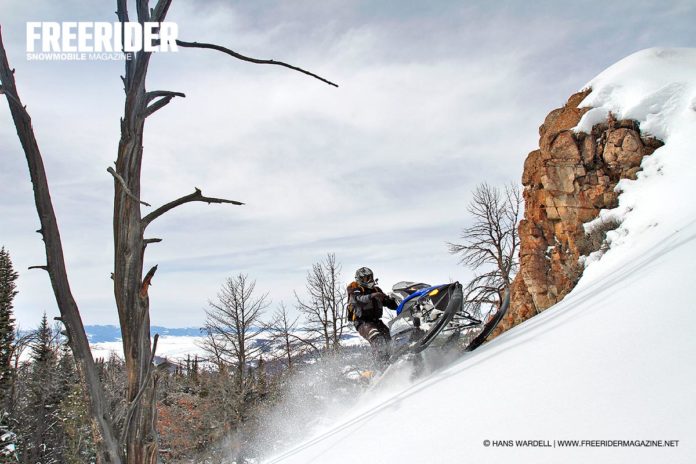 LIVIN' THE DREAM
Text Taylor DeTienne. Photos Hans Wärdell.
My apartment is conveniently located directly above Ace Powder Guides' shop in West Yellowstone, Montana, where I've been working the past five winters. For some people living so close to work would be a great convenience, to others perhaps a nightmare. My girlfriend believes it fits the latter category. For me, it allows for total immersion into the snowmobiling life.
I wake up each winter morning to the sound of cold 2-stroke motors roaring to life, and the shaking of the floor as garage doors open so sleds can be pulled from the shop and prepared for another day of riding the backcountry. After my only slightly rude awakening, I get a cup of coffee and make a quick call to the Gallatin National Avalanche Center for the daily avalanche report, and the tone is set for another day of guiding.
I have been a backcountry snowmobile guiding in West Yellowstone for six years. And while I know it sounds self-promotional, Ace Powder Guides is the premier backcountry service in West Yellowstone, which aptly proclaims itself the "snowmobile capital of the world." My boss and friend Jeff Watt has owned and run APG for 14 years and it has grown from a couple guys taking trips every winter into the backcountry, to a sought after group of guides that have built a strong, respected reputation.
Early on, guides had to buy their own snowmobiles and gear to guide with each season. Now, thanks to Jeff, and Chad Reichensperger who owns Hi Country Snowmobiles, my sled and riding gear are provided each season. Thanks to these guys and the guides that came before me, I can say with a smile, I'm "livin' the dream."
Ha, "livin' the dream," what a phrase! Waking each morning drinking coffee and smelling 2-stroke exhaust; getting paid to ride thousands of miles in some of the world's best backcountry snowmobiling territory.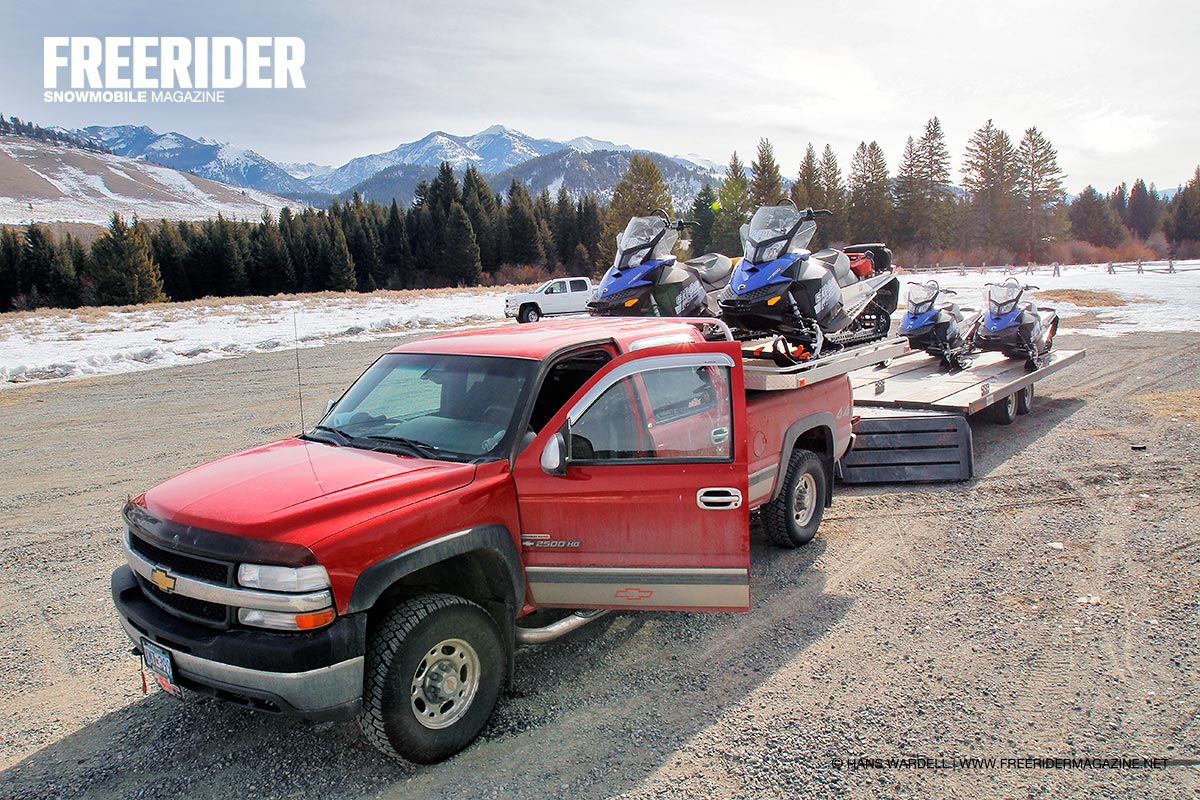 BEING A GUIDE ROCKS
Yes, life as a backcountry snowmobile guide rocks!
It rocks right up to the moment a paying client finds an unexpected rock, stump, creek bottom, etc. It rocks right up until someone climbs the exact avalanche prone slope you just finished telling them to avoid. It rocks right up until a client's sled is tomahawking down a mountain, rear bumper over ski loops after a rider ran out of talent during a climb. It rocks until a snowmobile blows a motor deep in the backcountry and has to be towed out through three feet of powder to a 5-mile long horse trail. Oh, and that bumpy narrow horse trail leads to eight more miles of trail, which ends at a highway crossing, our first sign of civilization. Yup, backcountry snowmobile guiding rocks!
In my five years of guiding I've seen many of the ups and downs that come with riding off-trail. Thank the Lord I have never had a major injury on any of my guide trips. That's not to say snowmobiles and riders haven't come back to town a little beat or abused, or totaled in a few sleds' cases.
One group of return clients comes to mind. Not because they are reckless or careless, they simply ride hard and are experienced enough for some of the most technical riding West Yellowstone offers. The only broken bone a rider has suffered while I was guiding was with this group, although I didn't find out until later.
A few years ago we were descending a pretty steep slope with trees lining both sides giving us a 60-foot wide path of glory that ran down a few hundred yards of mountain. With two feet of fresh powder covering its face these are the kind of downhill carves that choke a rider with snow, blinding them at each turn. As a rider surfaces he has a few split seconds to plan his next turn before submerging back into Montana's cold smoke powder.
Experienced riders dream of these exact turns throughout the heat of summer. There were five of us that day and before I dropped in I gave a hand gesture to leave some space between riders; thus avoiding the risk of hitting one another. Apparently, my idea of space is a little different than others. In my client's defense (Dan), struggles with depth perception due to a loss of vision in his right eye.
As we dropped in, I just happened to look up hill at the exact moment Dan T-boned another client (Chris) pinning his leg between Dan's front bumper and Chris's tunnel. Ouch!
I thought Dan would be a dead man, not from the accident, but strangled by Chris for riding too close and smashing his leg. Chris took it pretty well though. He walked it off and rode another few days, ignoring the pain. It wasn't until last year that Chris told me he had gone to the doctor a few weeks after the incident when he couldn't ignore the pain any longer. X-rays confirmed that his leg had been broken by the impact. Tough guy!
This season when Chris, Dan and crew came out they were pretty much par for the course. Chris found a tree stump under the snow that caused one of the most amazing front flip dismounts I've ever seen! Chris flew about 30 feet downhill landing on his butt in a foot of fresh snow. If I didn't know any better I would have thought he meant to perform the circus-like front flip, rather than being helplessly ejected.
Endless powder turns and snow that seems to never end are why backcountry guides do what they do. Spring riding can be some of the best all season in the West Yellowstone area.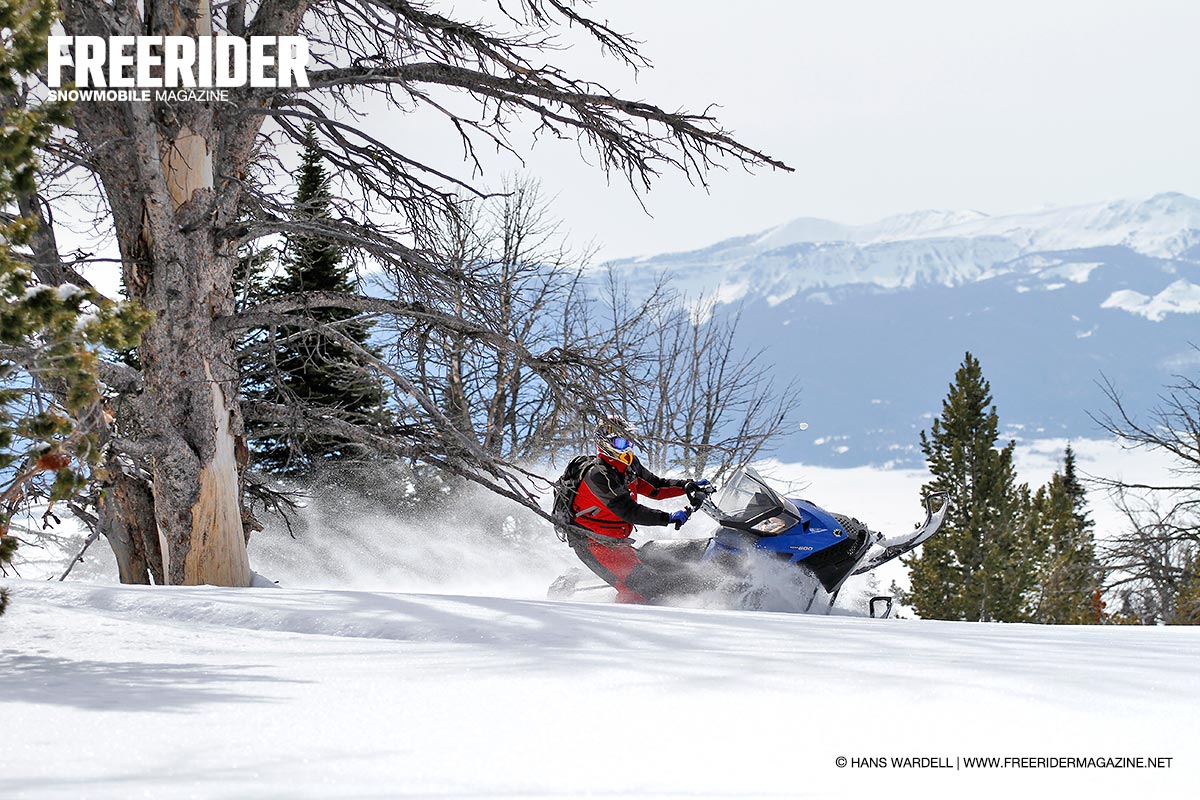 SOMETIMES WE DIG
Wrecks, dismounts, sleds being ghost-ridden down mountains, lawn darts into creek bottoms, if we're talking scary moments and hilarious out-of-control stunts, I've seen my share. Every backcountry guide has had moments like these at some point.
Some days I'm simply a professional digger, riding from stuck sled to stuck sled. Other days there isn't a fresh flake of snow anywhere in the woods and I'm stuck being a meteorologist explaining El Niño or La Nina and how a group was unfortunate for planning its trip when it did.
"A week earlier or later, you probably would have hit the snow perfect!" I've used that phrase more than a few times.
I have a passion for this job though. I grew up snowmobiling, and yes, after 6,000 miles on a snowmobile each winter even I can get a little burned out. Anyone would. But by July my thoughts are already turning toward winter and those face shots of powder.
AVALANCHE SAFETY
There are so many good times as a guide, and opportunities to educate riders as well. I love teaching people how to use their avalanche equipment. Every rider wears a beacon and carries a shovel and probe in a backpack on our trips. If you don't have your own, we'll provide it for you.
The first morning with a group we do a mini-seminar on avalanche safety, and how to perform a rescue in the event of an avalanche burial. This knowledge could save a life someday in the backcountry. It makes a person feel pretty good to know they could be saving a life with this information, and I am teaching them the best that I can because that life could end up being mine. I have had clients hire me simply for this peace of mind and the ability to hopefully dig a buddy out after a slide. Or better yet, avoid an avalanche altogether.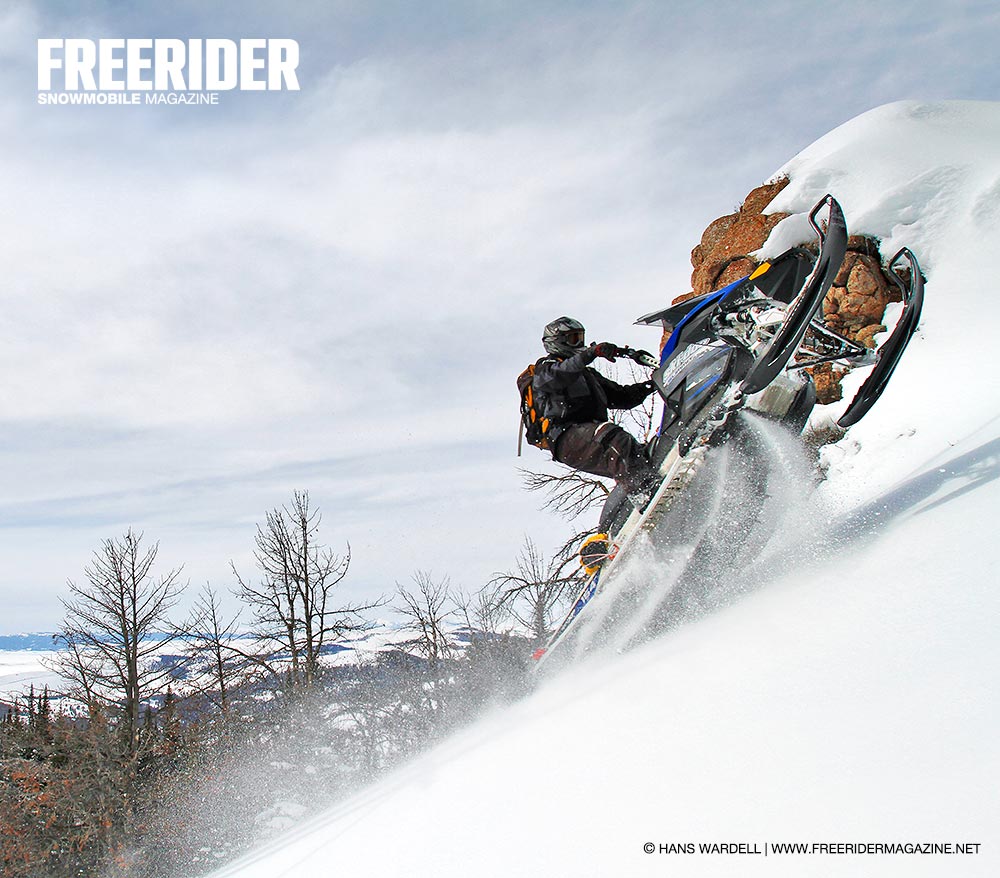 RELAXING TIMES
Most days we start a fire in the woods, cook hotdogs or brats and get to bond as clients and guides. I never get tired of the question, "How are you going to start a fire on the snow?" Just gather some wood and watch. I wasn't a Boy Scout, but fire starter or gasoline solves many problems! There are always good stories and big laughs over our fire in the woods, and some of my favorite memories of my fellow riders come from these relaxing times.
Guiding in the backcountry is filled with highs and lows, like any job. I have the greatest office in the world though, and have met some amazing people.
Riding abilities vary greatly with each group, and trips have to be adjusted daily to compensate for those variations. Some days clients are challenged to make the top of Two Top Mountain, a scenic and fairly simple ride to the summit. Other days the most serious backcountry terrain available is exactly what we are looking for. This creates unique challenges for a guide and a sharp eye for talent and experience is paramount for keeping trips fun and safe.
But as long as everyone leaves with a big smile on their face and are talking about a return trip next year, I've done my job. This satisfaction, along with a few good snow-in-the-face turns of my own every day, makes this the greatest job in the world.
I really am, "livin' the dream."