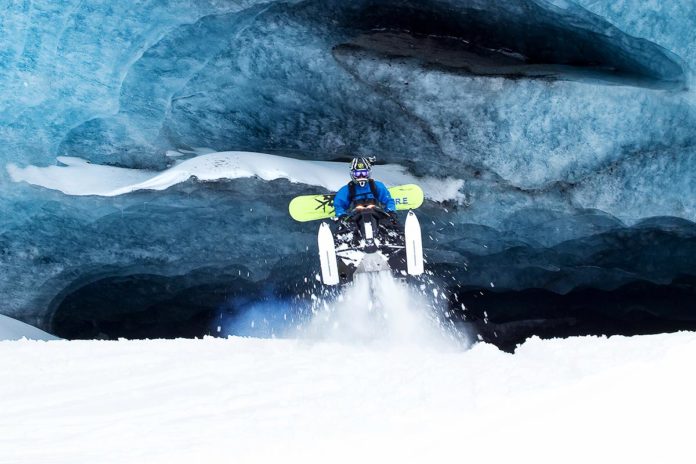 PRICETAGS HAVE NO PLACE IN THE PURSUIT OF POWDER.
Text Justin Befu and Daniel Pistoresi. 
Photo Justin Befu.
Each spring a migration takes place to the Chugach Mountains of Alaska, an annual gathering that has grown to include the world's best skiers, snowboarders, snowmobilers, helicopter pilots and others with a passion for living life to its extreme. For the last two decades, Thompson Pass has served as the epicenter of this movement.
Located a mere twenty miles inland from the port city of Valdez, Thompson Pass offers a perfect combination of roadside access, towering peaks and mind-blowing glacial terrain. Endless possibilities await the freeride snowmobiler with few other places on the planet able to deliver on this scale. Make no doubt about it, Alaska lives up to the hype.
But be forewarned – there is a reason why Alaska is still referred to as the last frontier. The 1,387 miles of the Alaska-Canadian Highway are not to be taken lightly. Be ready for a road trip of epic proportions, fill up the gas tank every chance you get and be certain to bring along a surplus of patience to deal with the inevitable bumps in the road. Most importantly, realize that the journey itself is the destination.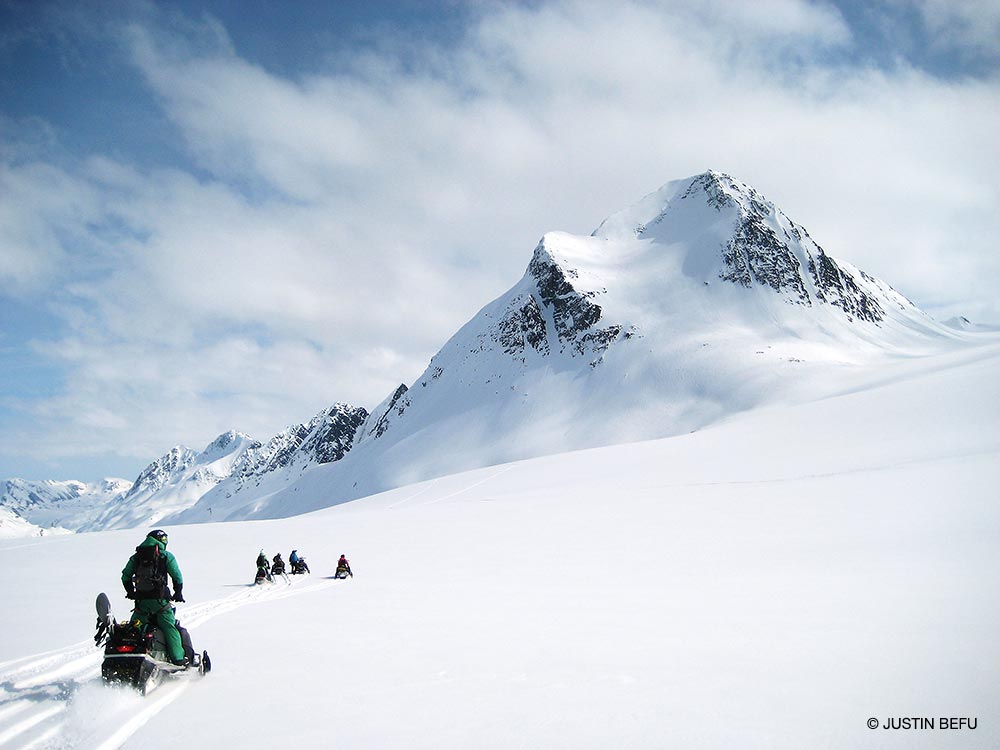 THE PLAN
I started planning this season's mission the day I got back from Alaska last year. With winter almost non-existent in the lower 48 states, I saw it as a sign that Valdez was reporting snowfall totals of more than 20 feet by early January with the town on pace to eclipse its previous snowfall record of 560 inches set during the winter of 1989-90. In nearby Cordova, warehouse roofs were collapsing and the local ski hill was forced to close in order to dig out its chairlifts. The "Valdez Snowmageddon" was on.
Perhaps the most important part of the planning process was selecting the crew. Every backcountry snowmobiler knows the importance of traveling with trusted, experienced riders; however, this consideration is paramount in the crevasse-riddled terrain of AK. The draw of Alaska's record-setting season allowed me to be extremely selective in terms of who made the final cut and the cast of characters read like a bank heist team – hill climb champs, big mountain riders, speedflyers and filmmakers – all specialists in their respective fields.
As for timing, the gameplan was to show up atop Thompson Pass during the first few weeks of April, the height of the Alaska heliskiing season. This timing also coincided with the annual Flow Tailgate AK event organized by long-time industry insider Mark Sullivan. Serving as the backdrop for the annual World Freeride Championships, this event has grown exponentially from its meager roots in a canvas-walled army tent with nothing more than a wood stove and a keg of beer to a full-blown 10 day festival complete with backcountry awareness courses, sled maintenance clinics, bands, beer gardens and nightly barbecues.
Bookended on the calendar by both Arctic Man and the Valdez Mountain Man Hillclimb, the Flow Tailgate AK scene attracts the best freeride snowmobilers in the world showcasing some of the most elaborately tricked out sleds and transport rigs imaginable. We're talking nitrous-injected, extended track sleds with aftermarket suspensions perched on the back of a semi sleeper boasting four custom built sled decks – all with matching paint jobs and a hot tub trailer in tow.
"I like to think of this event as a tribal gathering of sorts with representatives in attendance from all of the significant mountain playgrounds around the world," says Mark Sullivan, event organizer and founder. "Simply put, it's the best riders on this planet getting together once a year to push the limits of the sport with the Chugach Mountains providing an ideal venue."
With a hand-picked team in place and lofty goals on the horizon, we settled on three separate methods for getting all of our crew members, sleds and gear up to Thompson Pass. We would be dividing into three teams: the first would be shipping their sleds to Valdez, the second would be driving their sleds to Valdez and I volunteered to fly into Anchorage to pick up a pimped-out RV to serve as our sleeping quarters, mobile dancefloor and gear locker. Impressed myself by all the careful planning and resourcefulness of the team members, I began counting down the days on the calendar until it was time to embark on this season's AK mission. What could possibly go wrong?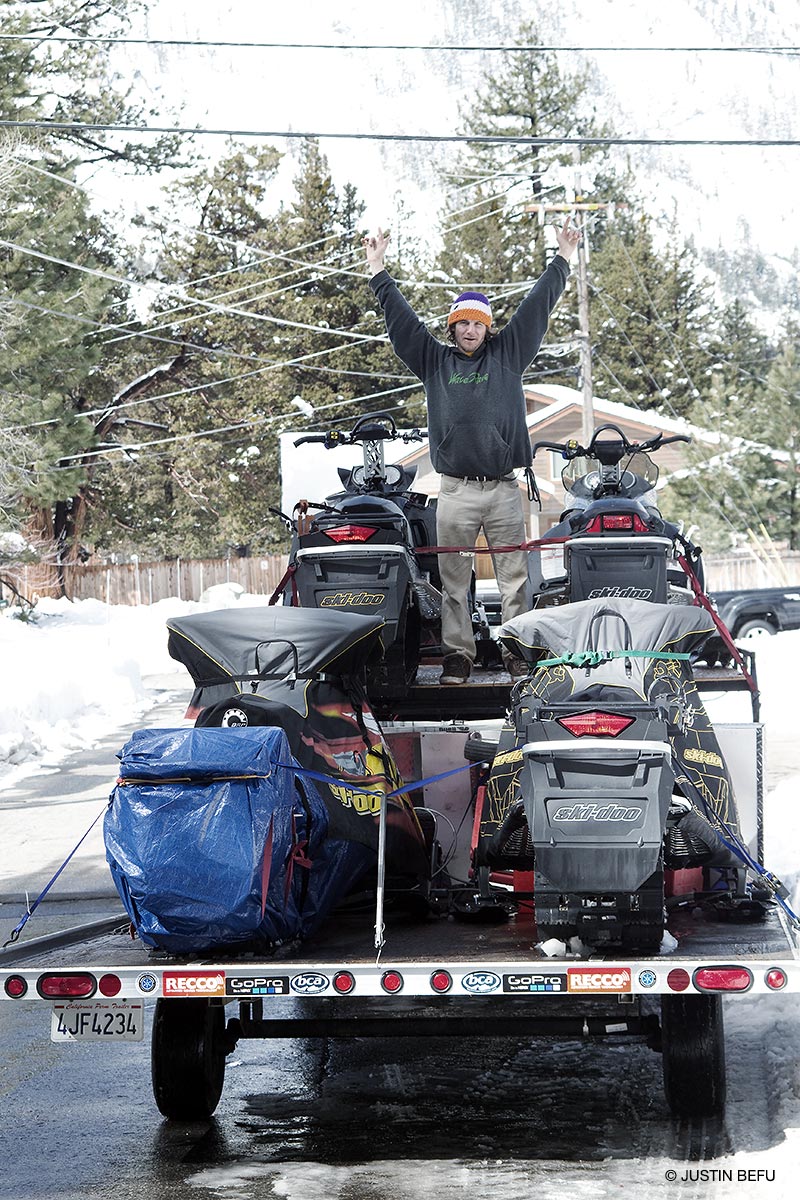 THE JOURNEY
It was with mixed feelings that I high-fived Will Brommelseik as he pulled out of my snowless driveway in Lake Tahoe near the end of March. Having served as Will's copilot on the same drive just a season earlier, I was a bit bummed that I would be missing out on the unique scenery found only on the Al-Can Highway – countless expansive mountain ranges, herds of caribou crossing the road, and the magical oasis that is Liard Hot Springs. But then I recalled the sleepless nights, blizzard conditions and high price of beer in Canada, and I quickly looked forward to the instant gratification of stepping off an airplane in Anchorage after little more than a six hour flight.
Unfortunately for Will, the first bump in the road came before he even made it to the Canadian border. It seems that a truck bed full of gear, a double sled deck and two more snowmobiles in tow via trailer were too much for the bio-diesel burning Dodge to handle. He blew the drive train linkage on the truck while climbing over Grant's Pass in Oregon. Thankfully, our other team happened to be on their way to Seattle to ship their sleds via barge to Anchorage. They helped with repairs and Will was back on the road with only one day of travel lost.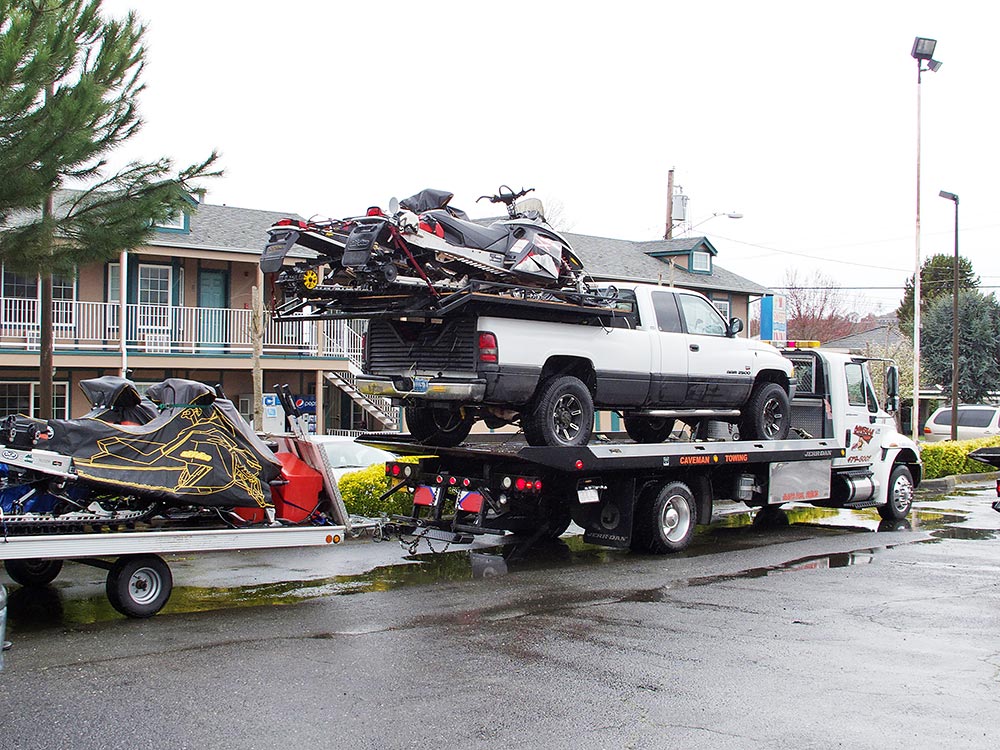 Armed with a current passport and bribe money (the Canadian Mounties call this being "instantly rehabilitated"), Will was ready for all the typical trappings that turn lesser crews away at the border. Pushing to make up for lost time, he was approaching the Yukon Territory with Zeppelin blasting on the stereo when suddenly he saw sparks flying in the sideview mirror.  Needless to say, it turned out to be a bit more than just a flat tire. The wheel on the snowmobile trailer had come loose causing the axle to be ground down to an unusable mess.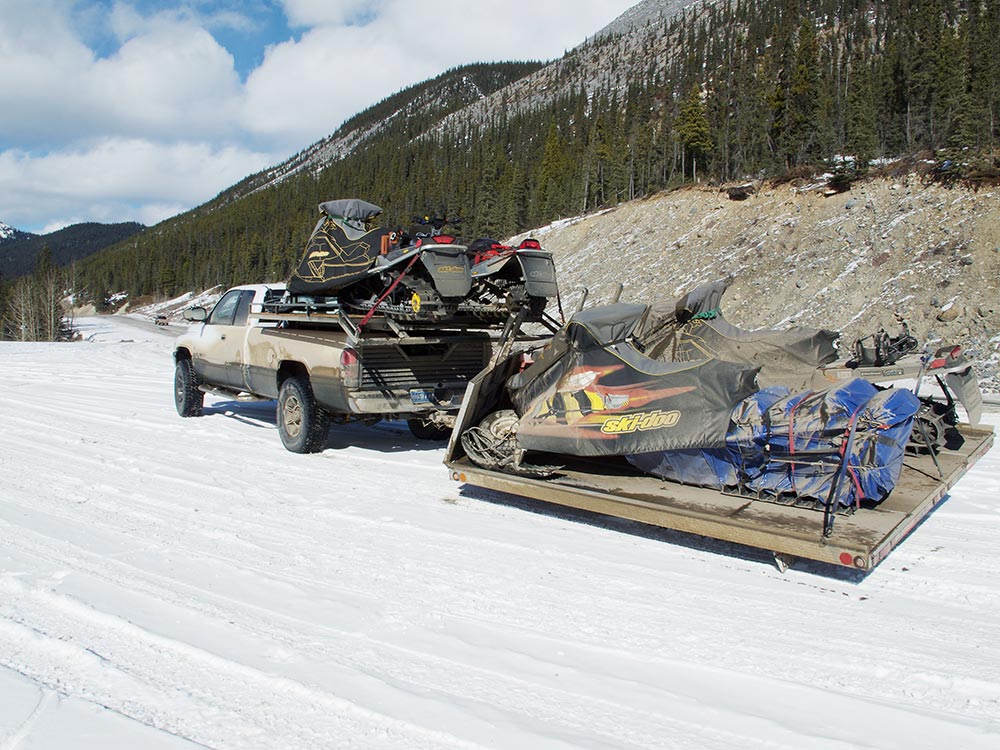 Now the waiting game had begun in earnest. Being that he was stuck in the middle of the Yukon, it took five days just for the parts to arrive. Upon completion of the repair to the trailer, the mechanic discovered that the transmission had been blown on the truck, as well. Three more days spent waiting. Finally, once the transmission was fixed and it was time to get back on the road, it began to snow. Will went to put the truck into four wheel drive only to discover it was shot. Another day lost on repairs.
"It felt like I was stuck in a rerun of a bad sit-com," said Will. "Not only was I stranded in the absolute fucking middle of nowhere, the Canuck mechanic didn't seem to be too motivated by my need to defend my title as World Freeride Champion."
Two weeks behind schedule and already $5,000 over budget, Will finally got back on the road moments before I boarded my flight from Reno to Anchorage. When the flight attendant reminded me to turn off my cell as we taxied to the runway, I figured it might be a good idea to simply keep it turned off upon arrival just to avoid any more "update" phone calls from Will.
THE REWARD
Captaining a fully-stocked, pimped-out RV north of Anchorage, I got my first real glimpse of the interior Chugach peaks while staring up the Knik Arm. I must admit that up to this point I had been second-guessing my decision to go through with this trip given the unforeseen expenditures and significant time already lost. Being a married man with two young daughters at home, it had become clear to me that I wasn't the only one being affected by my addiction.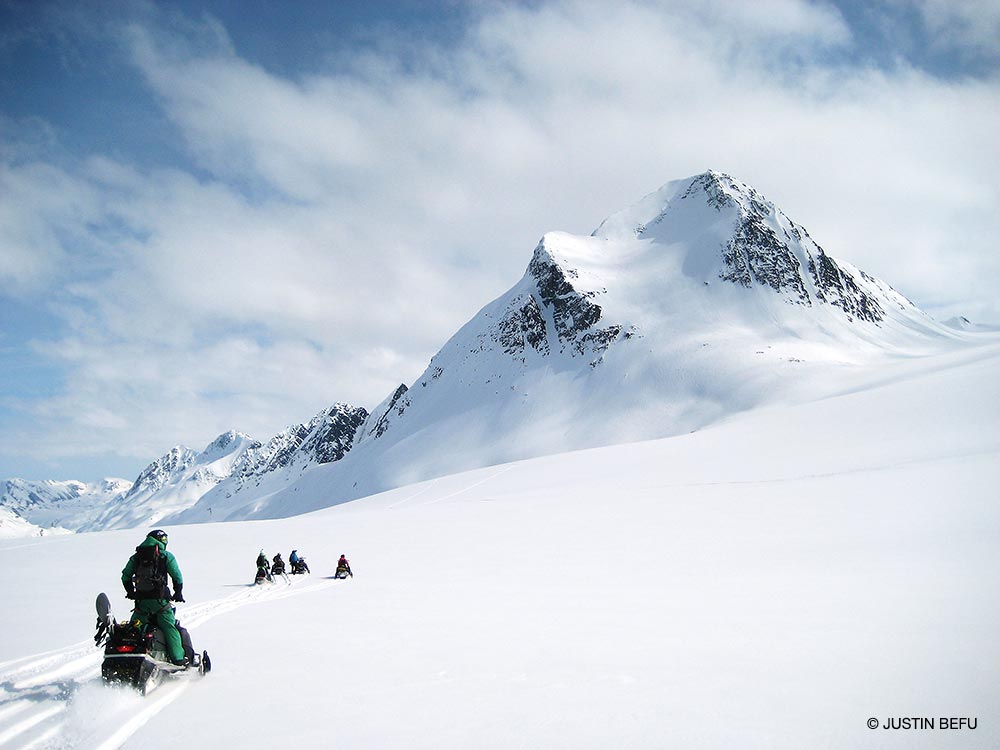 But as the blue ice at the toe of the Matanuska Glacier came into view, I started to remember just how different things are in Alaska. Next came the awe-inspiring scenery of the Wrangell-St. Elias Range, and I found myself scoping out lines, devising air taxi drops and slowly shifting perspectives back to a place where the mountains truly are larger than life. As I made the right turn into the parking lot atop Thompson Pass, a pinkish alpenglow was visible on the familiar profiles of Mt. Dimond, Python Peak and the Berlin Wall. Fucking Alaska…I had made it.
The Flow Tailgate AK scene was absolutely teeing off. Not yet quite adjusted to the around-the-clock stoke, I actually found myself more concerned with the parking situation. Will's delays had meant he did not arrive in advance of the masses to stomp out our planned compound, and I was staring at a maze of campers, trailers, tents and bonfires that would be impossible to negotiate with an RV. Suddenly a familiar face from the previous season tapped on my passenger window, handed me an ice cold PBR and told me he had reserved a front-row VIP parking spot for our crew immediately next to the landing zone for our buddy's newly launched helicopter operation. Connections are everything in Alaska.
The bonds formed while riding in the Alaska backcountry are some of the deepest – both in terms of faceshots and friendships. You come to rely on your partners at a level that borders on communion. The glaciers are alive. Their movements can be both felt and heard. Respect for both your fellow riders and the mountains themselves is paramount above all else.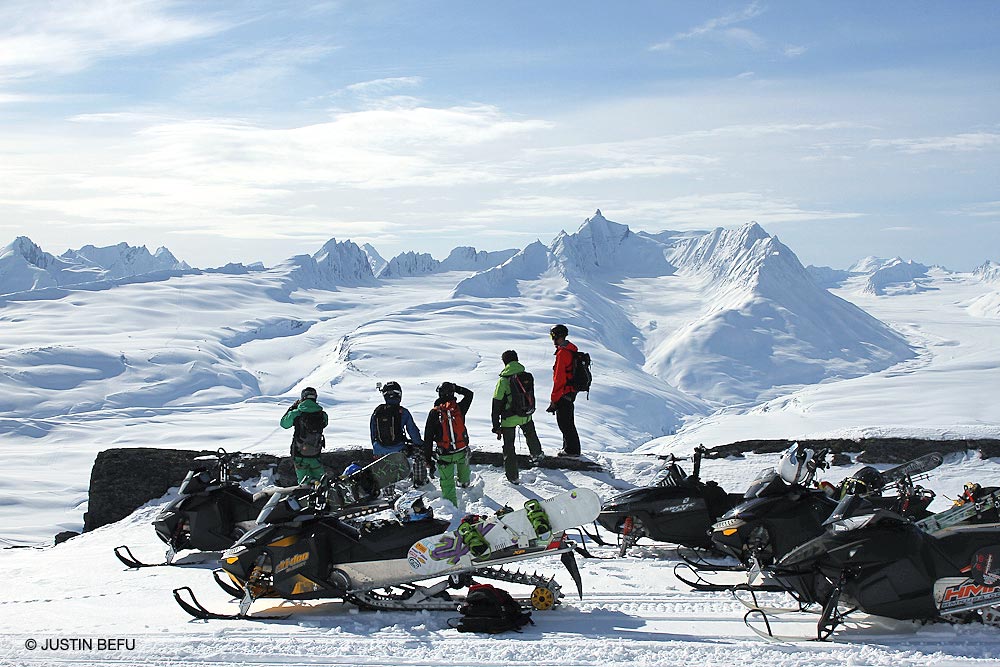 We wasted little time getting on our sleds the next day when we awoke to blue skies our first morning on the pass. The welcomed sight of early morning sunlight on the Worthington Glacier showed just how filled in the snowpack was this season. Thompson Pass could not be laid out any better for the freeride snowmobiler – it's almost as if the collective wet dreams of every rider were coalesced into a single frozen Shangri-La. The roadside runs are easily accessed via well-traveled gullies giving riders access to shuttled-runs of close to 3,000 feet.
After a day spent warming up on the nearby slopes, we decided we could not afford to waste another day of bluebird skies agreeing it was time to head deep into the heart of the Chugach. We solidified our plans that night over cold PBRs and grilled halibut steak, focusing our attention on the Deserted Glacier, The Books and The Valley of the Tusk – zones once reserved exclusively for heliskiers.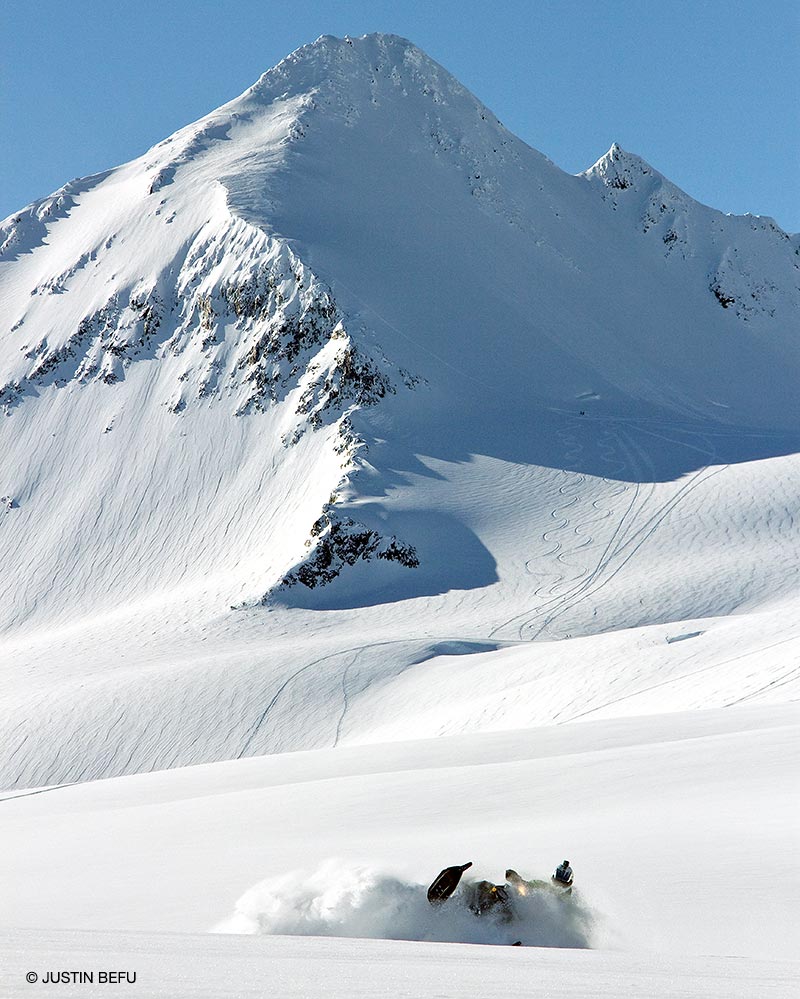 As we headed out into the massive expanse of the Chugach Range the next morning, I found myself in awe of what seemed to me such a strange juxtaposition of space and time. I was staring at sagging seracs, gaping crevasses and frozen underground river systems that were quite literally millions of years old. Yet here I was straddling a machine that seemed like something sent from the future to effortlessly propel me across this pristine landscape to get an up-close-and-personal look at the raw power of geological forces at work.
We pushed deep into the field, further than most groups are willing to travel, and found an untouched zone consisting of picture-perfect couloirs lined up as far as the eye could see. Far from being straightforward, the lines consisted of double fall lines with huge exposure as they snaked their way through intricate cliffband systems. I have no doubt our team logged a number of first descents that day, both by snowmobile and by snowboard. Speedflyer Pryce Brown definitely pioneered a never-before-skied line as he sent it off a three hundred foot icefall, a line so bold he attracted the attention of one of the helicopter operations circling him a few times to capture aerial footage.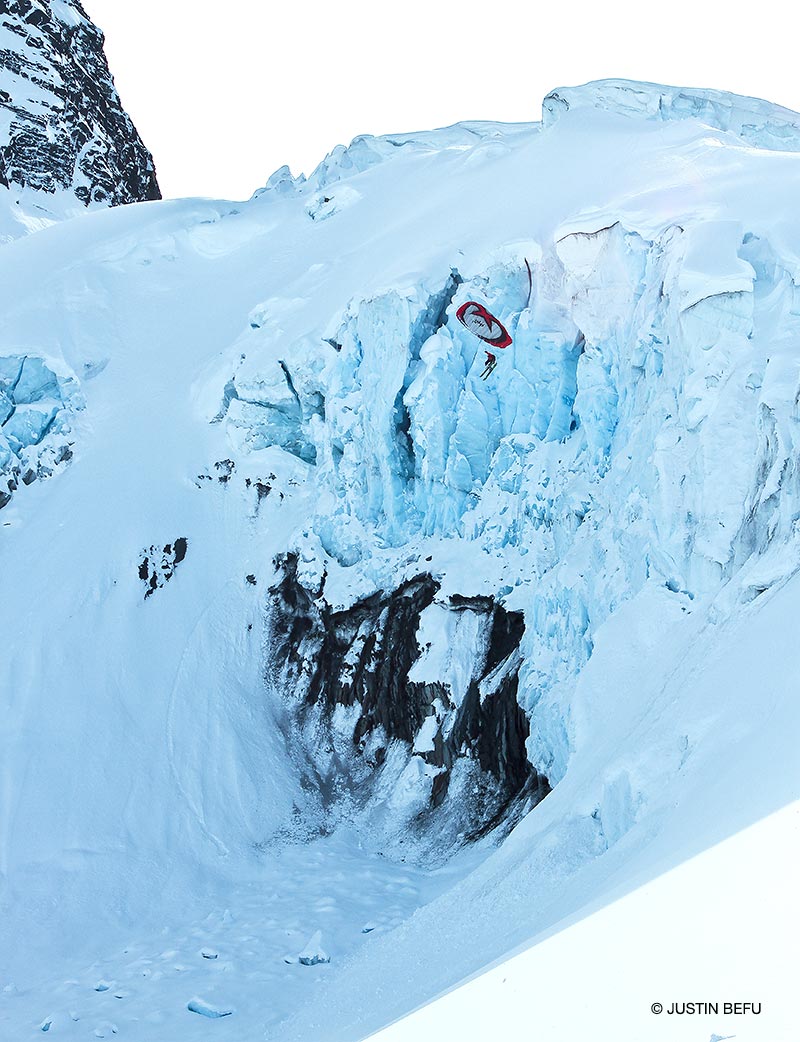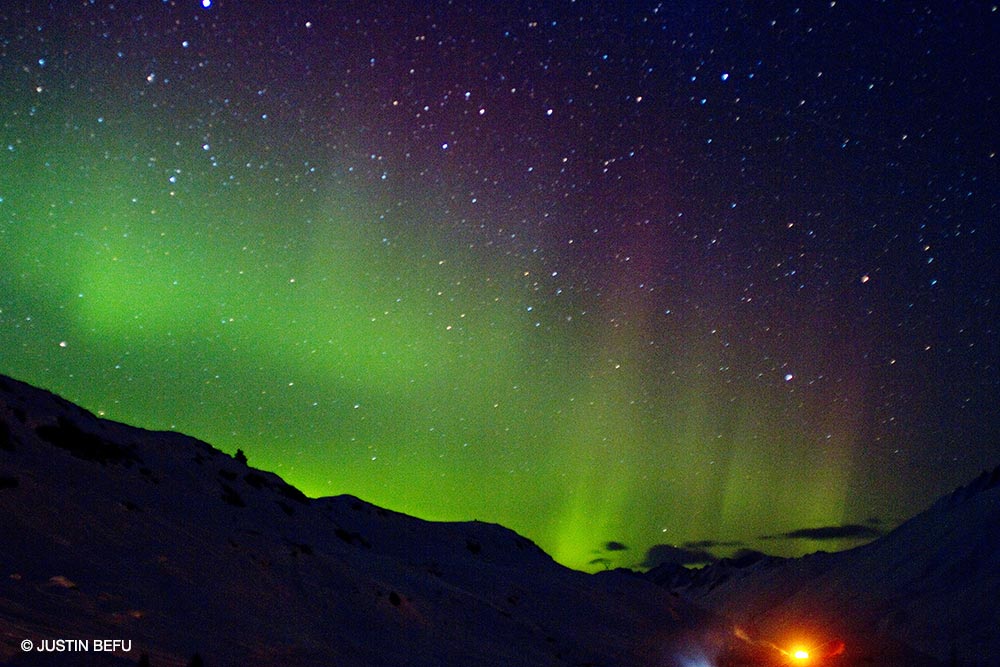 After a night spent fireside staring in amazement at the Northern Lights, the buzz quickly spread throughout the Flow Tailgate AK parking lot that the World Freeride Championships would be held the next day. Still riding high off the stoke from that day's adventure, I broke my promise to my wife and decided to enter the competition myself. Not that I expected to walk away with the coveted samurai sword in hand; instead, I simply wanted to remember what it was like to revel in the camaraderie shared only between fellow competitors. Standing on top of Bro Bowl with the likes of Scotty Lago, Mike Basich and eventual winner Brandon Reid, I couldn't help but feel a soulful connection to the sport.
With the roadside runs desperately in need of a freshen-up, we didn't complain when we awoke to goose-feather sized flakes falling from the sky the following morning. Nor did we want to waste a single moment of our trip after suffering through the drought that was winter in the lower 48 states. So we jumped on our sleds and headed out for a day of glacial cave exploration at the toe of the Tsaina Glacier.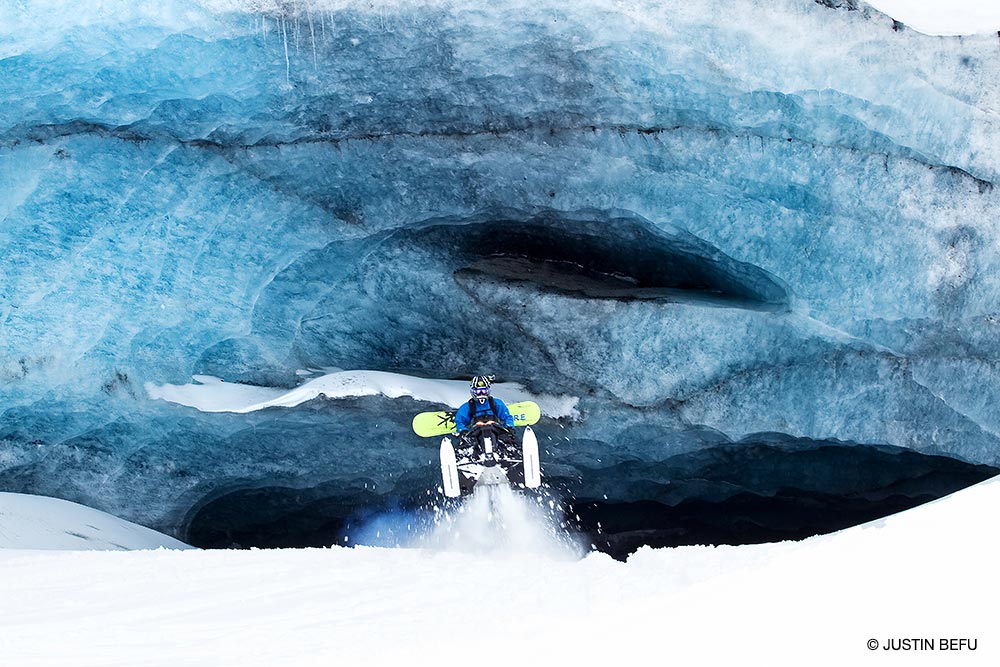 Alaska has always been home to the cutting edge progression in sports. Riders are constantly putting it all on the line, and rarely does a day go by without someone claiming a first descent or bagging a new summit. The fledgling sports of kiteboarding and speedflying seem to be the latest crazes to push the limits of what's possible on snow. And so it went, that even on what was supposed to be a "down day", we found ourselves laughing in amazement as our good friend Pryce Brown logged what we are pretty sure was the first speedflying run ever attempted inside a glacial cave.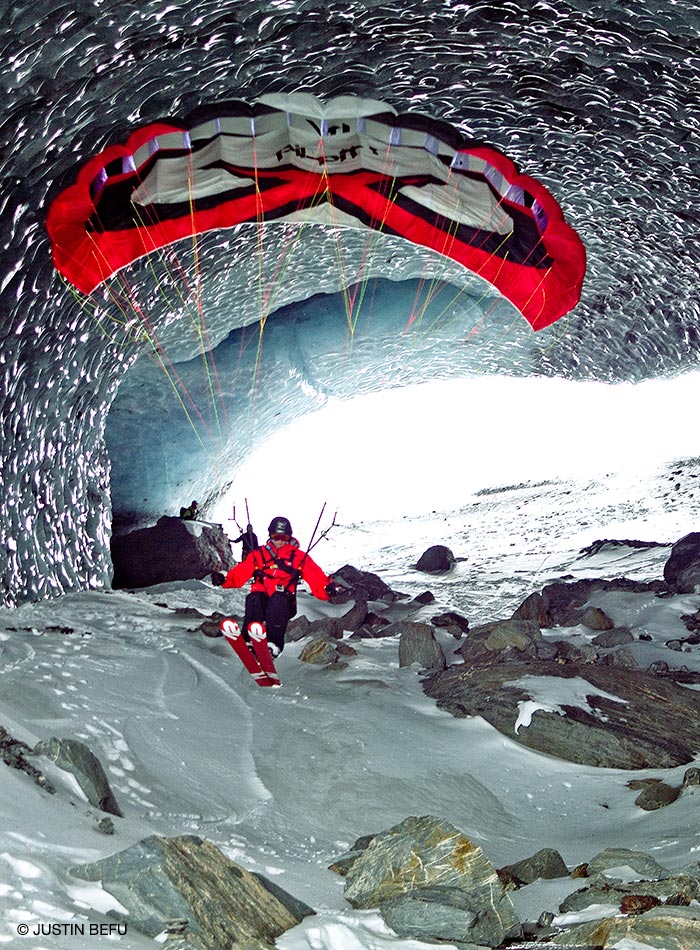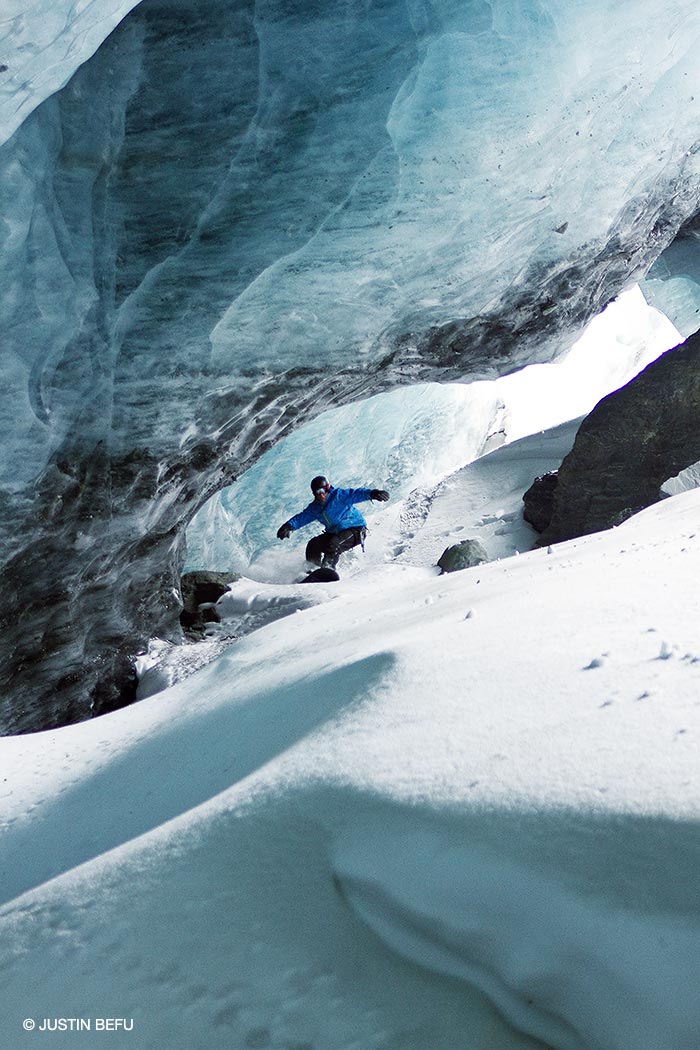 As we relaxed around the RV that night, the friendly banter suddenly devolved around the fact that given the repair bills to the truck, we would likely be paying off this trip for years to come. But being the true-blue Americans that we were, we quickly decided to face our looming unpaid debt by throwing down for seats on the helicopter the next day. After all, the sound of the rotor blades spinning had served as our alarm clock each of the last few mornings and we couldn't call it a successful AK mission without getting our heli fix in.
Our crew had numerous ties to Dave Geis, owner of Alaska Snowboard Guides, the latest helicopter operation atop Thompson Pass. Far from being new to the AK scene, Dave has spent the last 19 seasons exploring the Chugach Range and he has hand-selected some of the most qualified guides, pilots and rescue personnel from as far away as the Himalaya to be a part of his new operation.
"I created Alaska Snowboard Guides in response to a few demands that I felt were not being sufficiently met. First and foremost, I wanted to provide a platform that catered to the big mountain, surfer mindset typified by the snowboarding culture – you won't find our guides making figure eights," says Dave Geis, owner of Alaska Snowboard Guides helicopter operation. "Secondly, the Flow Tailgate AK event brings an influx of high-ability, low-income riders that understand the value of a dollar earned. Our operation is a bit of a throwback to the roots of the Thompson Pass heliskiing movement that allowed clients to cherry pick signature runs that often represent memorable milestones in a rider's career – notches on the belt if you will."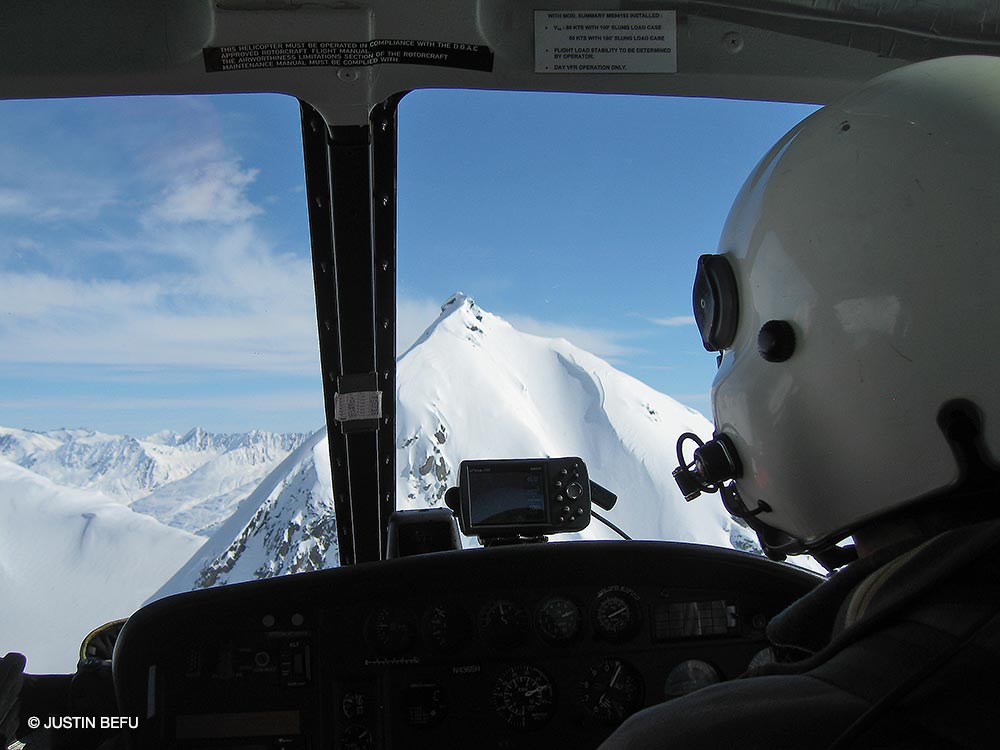 With a hit list in hand, we huddled tightly over our snowboards as we watched the helicopter effortlessly lift away leaving just the four of us and our guide atop an untouched Chugach summit. This was the feeling I had been waiting for all winter. We had made it! We had embraced the cyclonic flow that swirls throughout the whole of Alaska and felt it coursing in our bloodstreams as we stood quite literally on top of the world. I was overflowing with a zest for life, and I hadn't even made a single turn yet. With more than 5,000 feet of untouched powder waiting below, this was but the first of our eight runs that day. And although we were lucky enough to explore six separate zones and rip some of the legendary lines offered by the Chugach, we still saw only a glimpse of the range as ridgeline after spectacular ridgeline stood stacked up in every direction.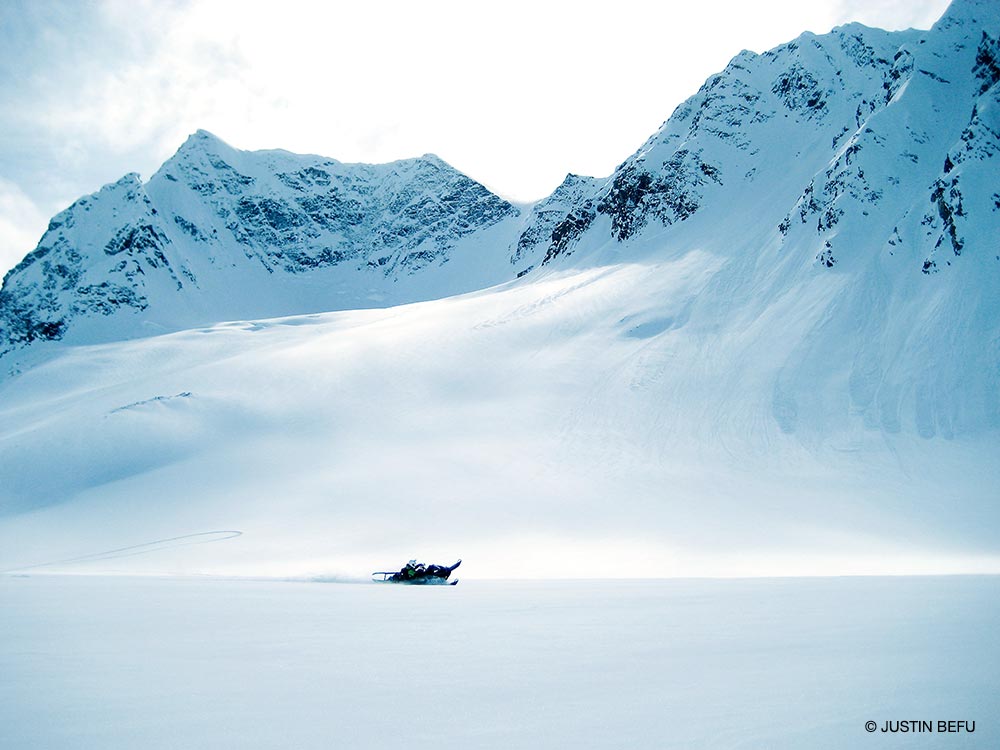 THE RETURN
After two full weeks of shredding with friends both new and old, it was suddenly time to go home. As I began my descent into the Reno-Tahoe International Airport, the sparsely covered peaks of the Sierra Nevada appeared more like foothills in comparison to the glacial expanses of the Chugach.
The flight attendant informed the cabin we were now permitted to use our cellphones as the plane taxied toward the terminal. Upon turning mine on, I discovered I had a voicemail waiting. With almost painful trepidation, I hit the play button bracing myself for the latest installment of Will's roadtrip horror stories. But instead, it was simply a message from my wife letting me know she and the girls were in route to pick me up from the airport.
"By the way," she said, "There seems to be a few suspect charges on our credit card. A couple thousand dollars were billed by a towing company in the middle of the Yukon Territory and another couple thousand have shown up under the guise of Stress Reduction Services performed by ASG Incorporated outside of Valdez. Please tell me your card was stolen."
After being away from home for more than two weeks and spending close to $10,000 dollars on this trip, it seemed pointless to try to explain to my wife now how there was no way of putting a pricetag on the life-affirming journey I just experienced in Alaska. Instead, I simply hugged my two girls and let my wife know I planned on eating nothing but top ramen for the next six months. After all, I needed to start saving up for next year's trip.